I have been using Digital Ocean for hosting couple of Websites from past couple of years. I am using a dedicated droplet as a mail server which hosts emails for all the domains. One day Gmail started bouncing emails from my mail server. I found out that Gmail is using Spamhaus blacklist to block emails from mail servers and unfortunately my IP address was a part of larger range of Digital Ocean IP addresses being blacklisted.
IP address being blacklisted is scary. I assumed that removing my IP address from blacklist may take couple of days even to get a response. Luckily, I got my mail server IP address removed from blacklist within few minutes. Here is the process I followed.
Visit the site https://check.spamhaus.org/ and search for your mail server IP address. If you run mail server as dedicated server separate from your Web server, make sure to put mail server's IP address and not your Web server IP address. Also don't use domain name. Only use mail server IP address.
Once you search for your IP address, Website will confirm that your IP address is blacklisted.
Go all the way to the bottom and click on "Show Details" button.

Check the box "I am running my own mail server" and click on "Next Steps" button.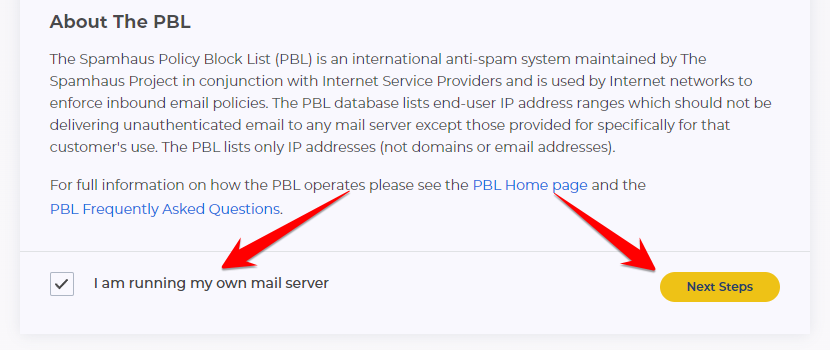 Fill out the form and click on "Submit" button.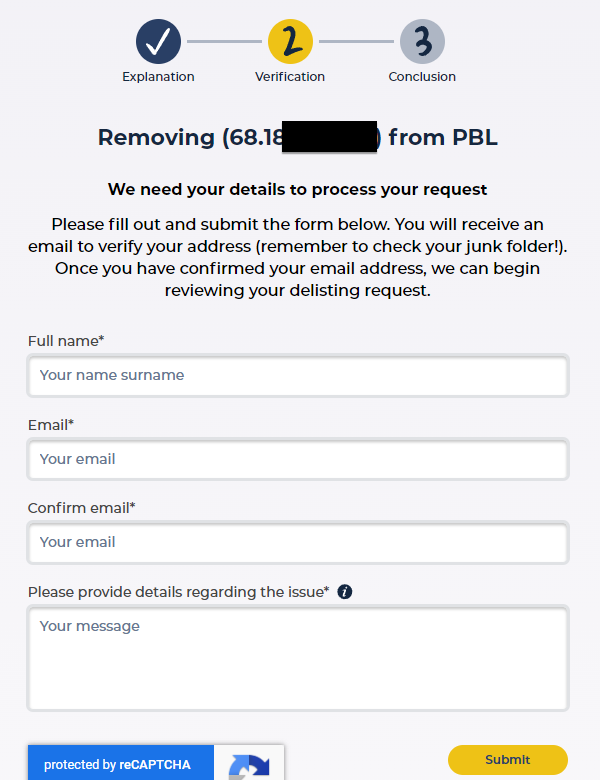 For "Full name", provide your first name and last name. For "Email", use your own domain's email address which is being affected. If you use your gmail, yahoo, hotmail or any other email address, they will close your ticket with the note that you have used disposable email address and resubmit ticket with your domain email address. For "Please provide details regarding the issue", I have provided following information:
I believe that 68.18x.xx.xx is simply being blocked as a consequence of a larger sweep against my service provider DigitalOcean.

The following technologies have been implemented on my mail server for authentication and secure communication:
• SPF, DKIM, and DMARC.
• StartTLS

Additionally
• Smart Network Data Service (SNDS) from Microsoft and Postmaster Tools from Google does not report any spam issues.
• The mail server 68.18x.xx.xx is for personal use only and doesn't send unsolicited emails.
Once you submit the button, it will show confirmation screen and ask you to verify the link sent to your email address.
For me, as soon as I clicked on the verification link, Website confirmed that my mail server IP address is removed from blacklist. It took around 12 hours for Gmail to accept emails from my mail server.