If you want to get HTML editor within MS Access form, there are couple of solutions available. The free solution I know is to get Not So Elegant HTML Editor. The problem with this editor is that
After looking at this editor, you will never say "so cool"
It is good for basic editing but many important functionality like "Table" editing is missing.
When I had to create HTML Editor within MS Access form, I asked the question to myself "Why to reinvent the wheel?" and the solution I came up with has the main benefits
It is completely FREE
When users will look at it, they will definitely say "so cooooool".
Rich feature set
XHTML compliant code will be generated and hence output can be used anywhere.
Plugin based architecture can help add extra cool features
Here is a sample of how this editor would look like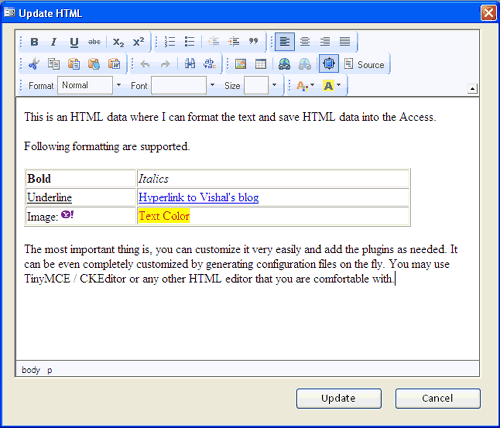 The solution is to use readily available Web based HTML Editor like CKEditor, TinyMCE and embed them into MS Access forms. You can easily communicate between the Web based HTML editor and VBA code using VBA DOM manipulation functions available for Microsoft Web Browser ActiveX Control.
Download