Today I was browsing using Firefox and suddenly it got stuck. I closed the browser window and tried to open it again but I got the screen for user profile.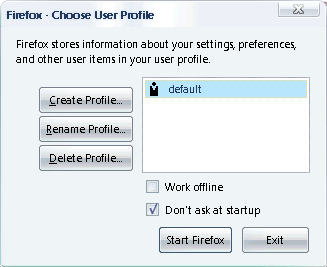 I tried to use "default" profile but gave me error that "Firefox cannot use the profile 'default' because it is in use". I created another profile and started using FF, but all my settings and bookmarks were gone. Now whenever I open FF, it was using newly created profile but did not show dialog box for choosing profile. I tried google and found the solution of the problem.
When I closed browser, the process firefox.exe in task manager was not killed but it was running. If you want to see how many profiles are existing for FF, close all FF window, and try to run the following command from Start > Run… and you will get the window as shown in picture.
firefox.exe -profilemanager
Delete all unnecessary profile and choose "default" profile. Kill the process firefox.exe from Task Manager and open Firefox.